Hong Kong – 29 August 2017 – CALC (the "Group", SEHK stock code: 01848), a full value-chain aircraft solutions provider for global airlines, is pleased to announced that it has delivered a new Airbus A321-200CEO aircraft to Tianjin Airlines Company Limited ("Tianjin Airlines"). The aircraft is custom-painted for the 13th National Games of the People's Republic of China ("13th National Games") unveiled in Tianjin on 27 August, featuring the games' emblem and mascot.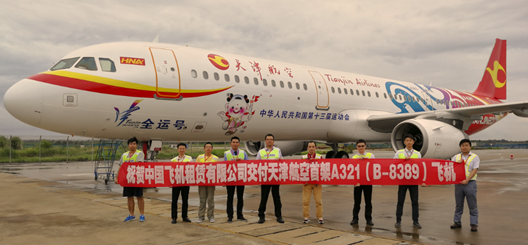 Mr. Mike POON, Chief Executive Officer of CALC, said, "Tianjin Airlines is a young and dynamic airline that has grown rapidly since its establishment. Not only does this delivery mark the first cooperation between CALC and Tianjin Airlines, it is also the first A321 aircraft to join Tianjin Airlines' fleet. CALC is honored to show our support for the 13th National Games with this themed plane. The Group strongly believes that the addition of the A321 aircraft will further diversify Tianjin Airlines' current fleet portfolio and lay a solid foundation from which to operate more routes. The delivery is also a significant event for CALC at a time when it is expanding its Chinese airline client base and further strengthening its leadership in China's aviation industry."
Tianjin Airlines was established in 2009 and is co-established by HNA Group and the Tianjin Municipal Government. Its fleet size currently exceeds 90 aircraft, and it operates over 250 domestic and international routes in total. Its service network extends far beyond China, reaching across various countries and regions including the UK, New Zealand, Japan, South Korea, Russia and Thailand. Tianjin Airlines flies to over 100 destinations and carried more than 12 million passengers in 2016.
CALC currently owns a fleet of 92 aircraft, and expects to deliver a total of no less than 110 aircraft by the end of the year and a total of no less than 232 aircraft by 2023 based on firm orders.