15 January 2015, Hong Kong - China Aircraft Leasing Group Holdings Limited ("CALC" or the "Group", stock code: 01848.HK), the fastest-growing independent aircraft operating lessor in Greater China, announced the delivery a new A320 aircraft to Qingdao Airlines, marking the 45th aircraft of CALC's fleet.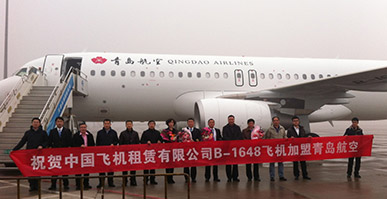 The aircraft was delivered at the facilities of Airbus in Toulouse, France on 14 January 2015. The delivery is the third of the five aircraft that CALC planned to deliver to Qingdao Airlines. The first two aircraft were delivered in April and May 2014 respectively and were among the first batch of aircraft in service for Qingdao Airlines.
With years of extensive experience in onshore and offshore leasing project execution in the aviation industry and diversified financing network and channels, CALC strives to provide airline customers with comprehensive services of the highest quality. Led by the professional management team and our strong shareholder base, CALC has entered into high-growth development stage and is developing into the international market offering domestic and overseas airline customers with highly customized value-adding full value-chain aircraft solutions.
For more information, please contact:
China Aircraft Leasing Group Holdings Limited
ir@calc.com.hk or office@calc.aero
About Qingdao Airlines Co. Ltd.
Qingdao Airlines Co. Ltd. ("Qingdao Airlines") is co-founded by Nanshan Group Co., Ltd., the top 500 enterprises, Qingdao Transportation Development Group Co., Ltd. and Shandong Airlines Co., Ltd. as a joint venture company of air transportation and related industries with registered capital of RMB 1 billion. Qingdao International Airport is the base airport of Qingdao Airlines.
Positioned itself as a boutique airline, Qingdao Airlines emphasizes on the quality of customer experience and is dedicated to providing a full-line flight service with advanced use of Internet technology. Based in Qingdao, Qingdao Airlines plans the network of domestic route, capturing the demand for air transport from Beijing and Shanghai and gradually developed into the first-class domestic air transportation company with strong innovation and competitive advantages.