Riding on the growth momentum of the industry, China Aircraft Leasing Group Holdings Limited ("CALC"), the forerunning operating aircraft lessor in China, listed on the mainboard of the Stock Exchange of Hong Kong at 9:00am, 11 July 2014. The listing of CALC signifies the recognition of capital market to its unique business model, steady financial performance, potentials for rapid development as well as its solid shareholder base. Stock code of CALC is 01848.HK, with lot size of 500 shares. Being the first aircraft lessor listed in Asia, CALC took the unprecedented step to land on the capital market.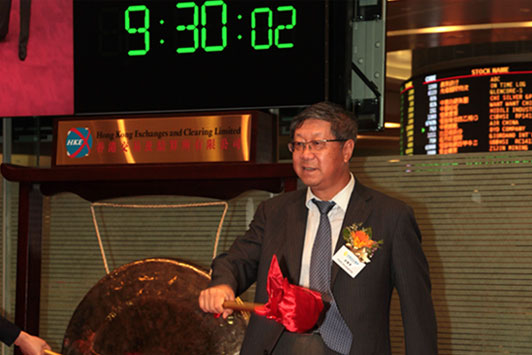 Offer price of CALC's stock is HK$5.53 per share, net proceeds from the Global Offering is approximately HK$591 million. 90% of the net proceeds (about HK$532 million) will be used on aircraft acquisition for developing our aircraft leasing business in China and other Asian countries.

Mr. TANG Shuangning, Chairman of China Everbright Group, attended the company listing ceremony as the officiating guest and performed the listing ritual to hit the gong on behalf of CALC; Mr. LIU Jun, Deputy General Manager of China Everbright Group and the senior management of all other listing-related parties also attended the listing ceremony.
Mr. Mike POON, Founder and CEO of CALC said, "The successful listing on HKEx is an important milestone for our business development. Marking a starting point of our business at a brand new level, the listing of CALC will bring the Company into another rapid growth period. Looking forward, with continuous efforts, we will strive to create a more globalize and innovative company for global investors for greater and wider room for various development in the aviation industry, maximizing returns for shareholders."
Based on the number of annual import of new aircraft under lease, CALC is the largest operating aircraft lessor in the market. Through the domestic leasing platform in free trade zone in China and overseas leasing platform in Ireland, CALC developed unique competitive advantage with strategic "dual-platform" business model as competitive advantage. With professionalism and innovative spirit, CALC is dedicated to providing value-added full value-chain solutions for domestic and international airline customers as our unique competitive advantage which outstands CALC from our peers of the same region. As of 30 June 2014, CALC owns 34 commercial aircrafts and planning to expand to at least 64 aircrafts by the end of 2016.
After listing, the shareholding structure of CALC is as follows, China Everbright Limited 36.74%, Friedmann Pacific Asset Management Limited 30.94%, China Aerospace Investment Holdings Limited 6.45%, and public shareholders 25.87%.
China Everbright Capital Limited and CCB International Capital Limited are the Joint-sponsors. China Everbright Securities (Hong Kong) Limited , CCB International Capital Ltd and China International Capital Limited and China International Capital Corporation Hong Kong Securities Limited are the Joint Global Coordinators and Joint Bookrunners.