Hong Kong, 11th August 2020 - China Aircraft Leasing Group Holdings Limited ("CALC" or the "Company", HKSE stock code: 01848), a full value chain aircraft solutions provider for the global aviation industry,is proud to announce that Ms. Winnie Liu, Deputy CEO and Chief Commercial Officer of CALC, has been enlisted "40 under 40" for 2020 compiled by Airline Economics. This is the second time that Liu is being included on the list since 2017, illustrating full recognition by the global aviation industry for CALC's unrelenting efforts in advancing changes in the global aviation industry.
The inclusion of Liu as one of the few female practitioners earmarked to be the top future leaders for the industry has also made CALC the only Chinese lessor on the list. Recently, CALC has made a number of pioneer moves for the industry, including the establishment of the first RMB5 billon asset-backed securities programme for aircraft leasing in China, and obtaining the EASA Part 145 Maintenance Organization certification for line maintenance through its MRO JV. These leading edges have proven the success of CALC's extension of its role from a monoline lessor to a professional aircraft asset manager in facilitating airline clients to focus on their operations and services by serving their fleets, and in collaborating with other lessors while opening the door for institutional investors to participate in investments in quality aircraft assets.
CALC's belief in standing with all stakeholders in tackling all unprecedented challenges for the prosperity of the industry in the long run is also being proven during the period.
"I'm extremely honoured to be made to the list again this year. This is truly a result of the shared efforts from our team. I would like to extend my gratitude to our airline clients, financing partners, industry peers and shareholders for their untiring support. At CALC, we work in the belief that if we look after our business partners and staff well, our partners and staff will look after our business equally well. During these unprecedented times, we are proud to stand with all our stakeholders and we are keen to walk through all difficulties with our partners together," Ms. Liu said.
Airline Economics is one of the most widely-read and renowned publications in the global aviation industry. Its annual "40 under 40" list celebrates the top 40 individuals aged under 40 in the commercial aviation industry with the aim of highlighting the achievements, dedication and talents of industry elites.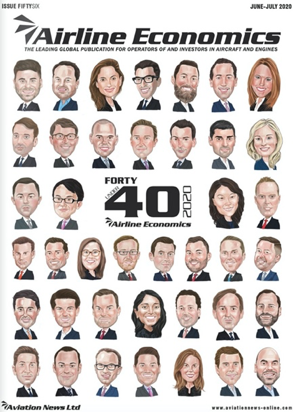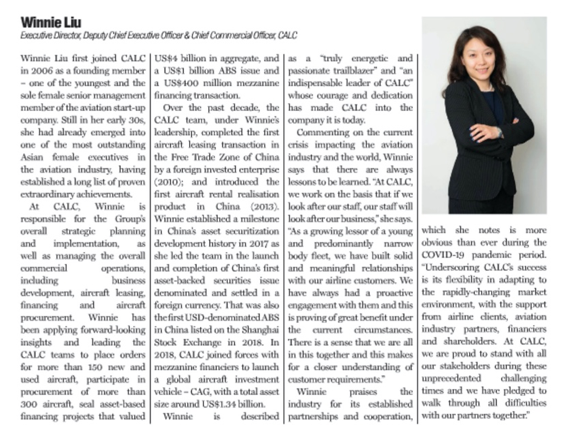 CALC, under Liu's leadership is the only Chinese lessor made to the list this year