Hong Kong, 8 December 2021 – China Aircraft Leasing Group Holdings Limited ("CALC" or the "Company", HKSE stock code: 01848; together with subsidiaries, the "Group") began its 15th anniversary celebrations with the taking of 150th aircraft in its fleet as the Group delivered another A320neo to the Chilean carrier SKY Airlines at the Airbus facility in Toulouse. It is the third new A320neo aircraft that CALC has delivered in the past week.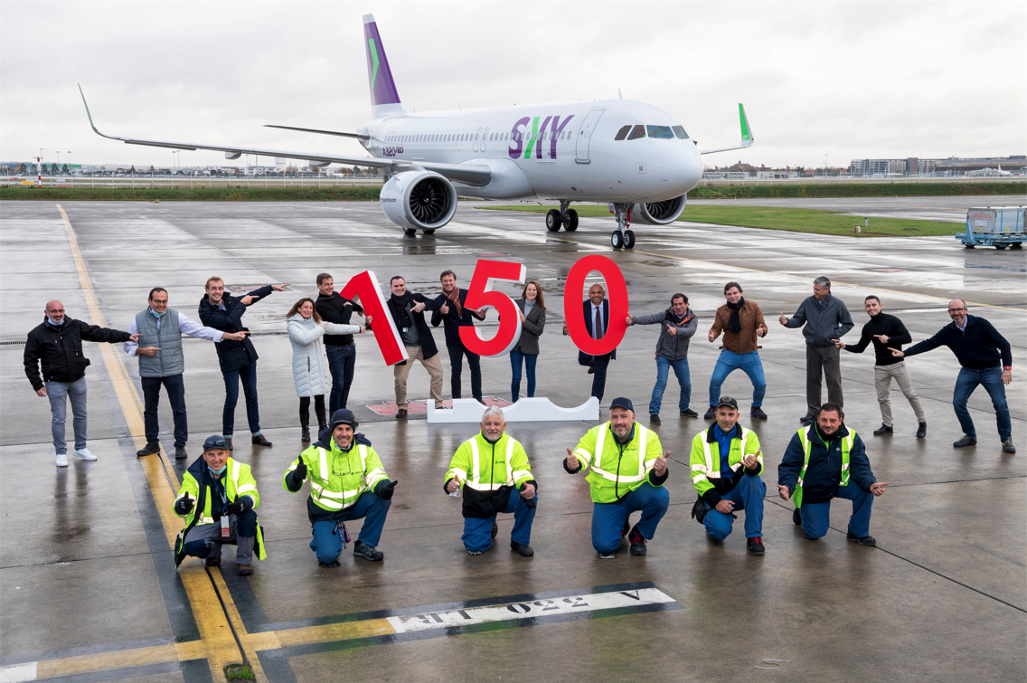 Since its inception in 2006, CALC has been charged with a mission to assist development of the civil aviation market, in particular, the aviation finance and leasing segments in China while extending its business footholds in other world markets where it sees opportunities to serve its clients better. Starting from scratch, the Group has gone a long way in the past 15 years from piloting some of the initiatives in Chinese aircraft financing industry to establishing footholds around the world; from diving deep vertically along the industry value chain to growing the overall scale of the business, during which many historical moments were written. Today marked another important milestone and the Group is on track of advancing its professionalism in the global market.
Dr. Zhao Wei, Chairman of Boards of Directors of China Everbright Limited ("CEL") and CALC, said: "As its investment philosophy, CEL believes in connecting different industries and integrating them into one another deeply. CALC is Asia's first one-stop aircraft solutions provider nurtured by CEL. Today, we are grateful in celebrating the 15th anniversary of CALC. The Group's fleet has reached 150 aircraft with a matured coverage of the entire aircraft lifecycle, progressing at becoming a world-leading aircraft full-value-chain aircraft solutions provider. I sincerely hope CALC to continue its mission of facilitate development of China's civil aviation through 'integrating the aviation industry with financing', implementing a sustainable business development model, fully utilizing its strengths in operating aircraft leasing, and hence promoting innovation and high-quality development of the aviation industry in China. We have full confidence in CALC's future."
Mr. Mike Poon, Chief Executive Officer of CALC, said: "Thanks to the trust and support of various industry partners including China Everbright Group, China Everbright Limited and aircraft OEM manufacturers, CALC has been making ongoing breakthroughs in its business development based on its highly innovative development strategies in the past 15 years, establishing a solid footing for its scaled growth. The one-stop full industry chain business model we have established is sustainable and resilient with strong customer stickiness. At the same time, we are adhering to a prudent aircraft asset allocation strategy that focuses on aircraft assets of stable value and high liquidity. Coupled with close partnerships with aircraft OEM manufacturers, we are offered accesses to technology-leading, low-fuel consumption models to ensure strong orderbook advantages. These momentum drivers enable us to weather downturns in the industry and allow us to capture opportunities afforded by recovery of the market from the pandemic, continuing our strive in providing high-quality services for airline customers to optimize their fleet and manage aircraft assets."
"On the occasion of this latest A320 delivery, we would like to congratulate CALC on its 15th anniversary, as it celebrates its 150th aircraft including sale and leasebacks. With another 150 new Airbus aircraft on the orderbook, we look forward to CALC growing its portfolio of the world's most sought-after aircraft models," said Paul Meijers, Executive Vice President for Commercial Aircraft Leasing, Trading and Financing at Airbus.
As at the day of delivery, CALC's owned and managed fleet has reached 150 aircraft. According to the latest ranking by Aviation Finance in November 2021, CALC ranked third among global leasing companies in orderbook value. The Group's total assets have reached HK$45.4 billion, with a stable customer base and long-term business partners in 16 countries and regions around the world in 12 offices, powered by a 250-member staff.