CALC is pleased to announce the successful issue of US$100 million 4.85% senior unsecured notes due 2024 by its subsidiary CALC Bond Limited (HKEX bond code: 40972). The net proceeds from the issue were to be used for aircraft acquisitions, business expansion in aircraft and related business, refinancing existing borrowings, and general corporate purposes. The notes were issued under the US$3 billion Guaranteed Medium Term Notes Programme of CALC Bond Limited. They have been assigned a "BB+" rating by Fitch Ratings ("Fitch") and a "Ba2" rating by Moody's Investor Services Limited ("Moody's").
This was the first rated US dollar notes issued by CALC since it received credit ratings from international rating agencies. With a rate of 4.85%, the issue reflects investors' confidence in CALC, as well as in the recovery of aviation industry.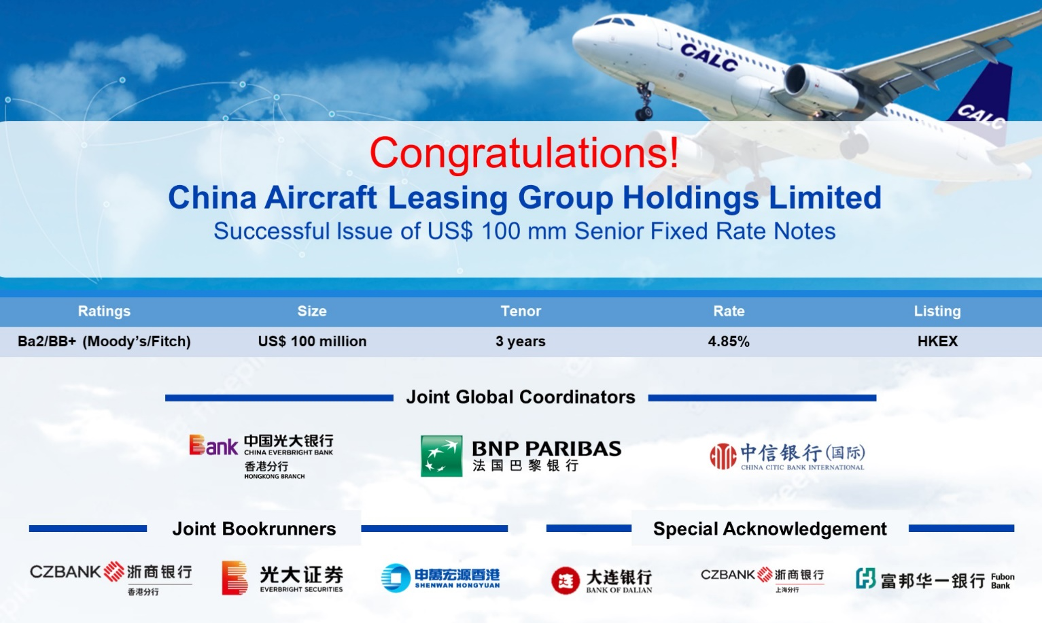 Mike Poon, Chief Executive Officer of CALC commented: "In view of the current challenging market environment, the successful issue of our US dollar notes at 4.85% underscores investors' confidence in the operating strengths and future prospects of CALC, as well as investors' recognition of CALC as a high-quality issuer in the capital market."
Mr. Poon added: "With sound financial position, CALC has diversified financing channels including bank credit lines and working capital facilities that ensure efficient liquidity. Meanwhile, the Company has been proactively optimizing its debt structure to continuously lower overall interest expenses, improve our financial agility and capital efficiency. In the future, we will adhere to our steady and consistent business strategy, and leverage in full our diversified onshore and offshore financing channels, staying vigilant to changes in both markets for financing and better grasping business opportunities emerged from post-pandemic recovery of the aviation market, and continue to improve our profitability."