CALC Group is pleased to announce that its wholly-owned subsidiary China Asset Leasing Company Limited ("CALC (TJ)") has issued RMB1 billion of super-short-term debentures in China with a term of 270 days and a coupon of 3.56% on 21 October 2022. The issuance marked the first-ever low-carbon transition bond in China's aviation market and its aircraft operating leasing sector which oversubscribed 1.63x, hitting new price low for the same term and of the same type.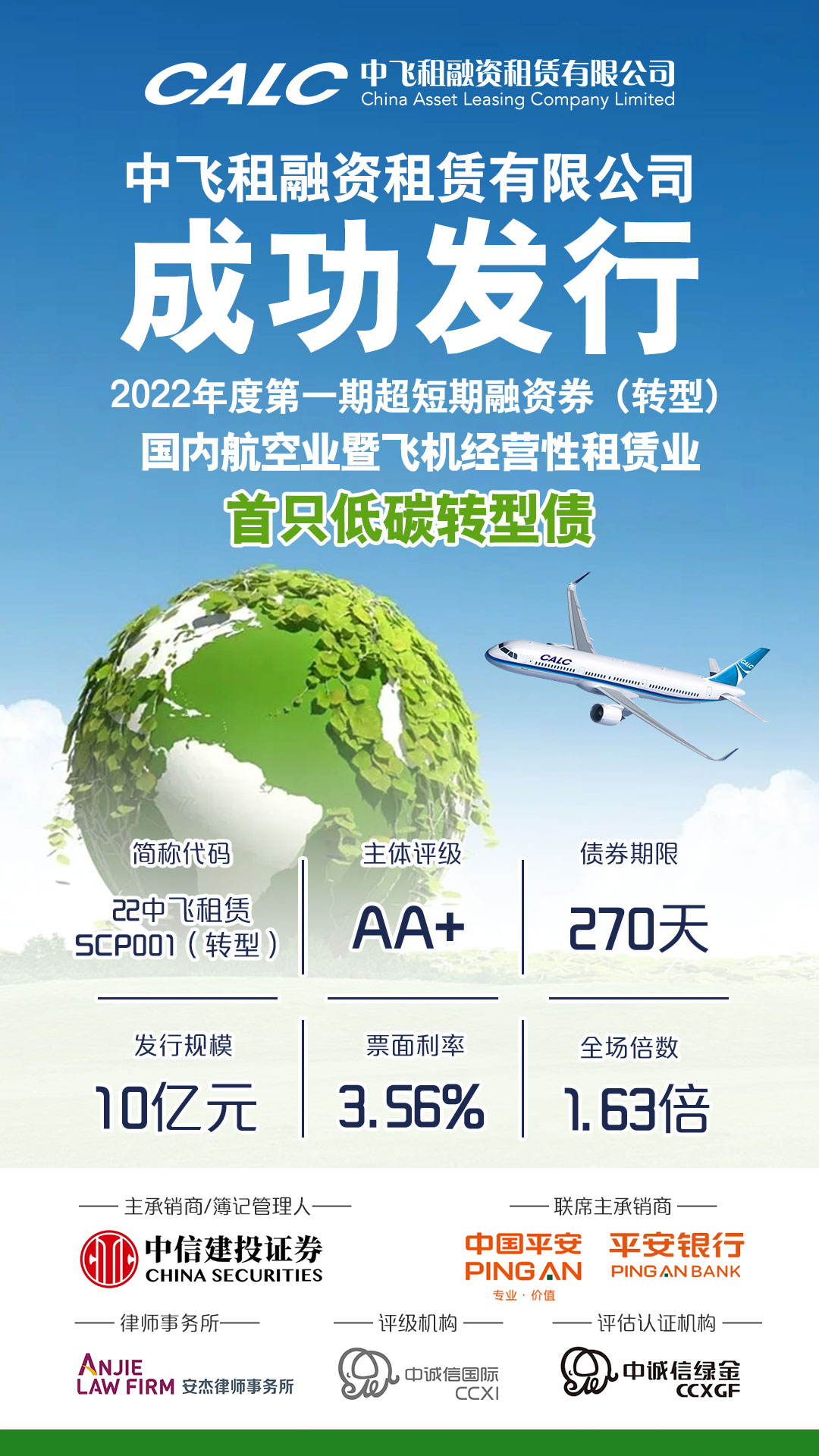 Thanks to China's "dual carbon" goals, investment in ESG and green finance products in the country has gradually become a market trend, fuelling the rapid development of related investments. As the first low-carbon transition bond in the domestic aviation market, not only did this bond issuance add diversity to the types of financing products for CALC, it also offered a new choice for the ESG investors. The issuance also reflected investors' recognition of CALC(TJ)'s commitment to sustainable operations backed by its one-stop fleet upgrade services, endorsing the Company's advantages as a leading Chinese aircraft lessor and its determination to support green development in civil aviation.
CALC (TJ) is a wholly-owned subsidiary of China Aircraft Leasing Group Holdings Limited, one of the few lessors in the world that are capable of providing a full range of services such as aircraft leasing, aircraft financing, fleet upgrades, asset management and portfolio trade, and has "aircraft asset manager" capability and eligibility. The Company will continue to enrich its financing channels and further enhance its earnings quality to catch the huge market demand arising from the domestic aviation market and to seize the opportunities brought by the 14th Five-Year Plan to advance China's civil aviation development.