Hong Kong, 12 May 2023 - China Aircraft Leasing Group Holdings Limited ("CALC" or the "Company", HKSE stock code: 01848), a full value chain aircraft solutions provider for the global aviation industry, is pleased to announce that it has been awarded the "Sustainability Debt Deal of the Year" by Airline Economics at the Dublin Aviation & The Environment Summit held on 11 May 2023. This is the first time that CALC has granted international recognition of its pioneering ESG practices by issuing the first-ever low-carbon transition bond in China's aviation market.
Ms. Winnie Liu, Executive Director, Deputy CEO and CCO of CALC, said, "We are deeply proud that CALC has once again demonstrated its unique position and competitive advantages in the global aviation industry. Sustainable development is a global topic and an essential aspect of achieving high-quality corporate development. CALC has been investing in the most popular new generation of energy-efficient aircraft models, and exploring innovation in aviation aftermarket development, providing global customers with green fleet solutions. CALC will continue to leverage our business model to create innovative solutions and value-added services to drive forward and achieve ESG-related goals and encourage all aviation partners to join forces to reach net zero emissions by 2050."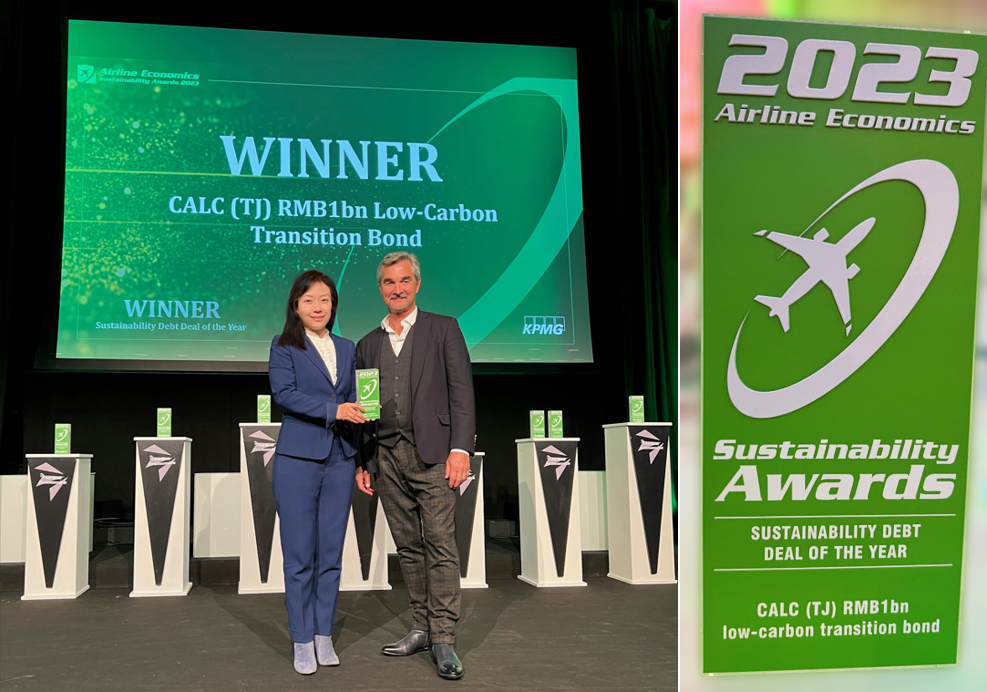 Under the backdrop of China's "dual carbon" goals, investment in ESG and green finance products in the country has gradually become a market trend, fueling the rapid development of related investments. As the first low-carbon transition bond issued in the domestic market, not only did this bond issuance add diversity to the types of financing products for CALC, it also offered a new choice for the ESG investors. The issuance also reflected investors' recognition of CALC's commitment to sustainable operations backed by its one-stop fleet upgrade services.
According to Airline Economics, The Sustainability Deals of the Year is to award the companies that demonstrate both the escalating importance of sustainability initiatives in the aviation industry and the passion and dedication of industry professionals in pushing ahead with the industry's journey to net zero.
The award once again illustrated full recognition by the global aviation industry for CALC's unrelenting efforts in advancing changes in the global aviation industry.