Hong Kong – 25 September 2017, CALC (the "Group", SEHK stock code: 01848), a full value-chain aircraft solutions provider for global airlines, is pleased to announce that Ms. Winnie LIU, Executive Director, Deputy CEO and Chief Commercial Officer of CALC, made it onto the "40 under 40" list compiled by Airline Economics, one of the most widely-read and renowned publications in the global aviation industry.
This is Airline Economics' second annual "40 under 40" list, which celebrates the top 40 individuals aged under 40 in the commercial aviation industry. The annual ranking compiles nominations from the industry with the aim of highlighting the achievements, dedication and talents of industry elites. Airline Economics' editorial team shortlists the finalists based on a number of criteria including contributions made to the industry and career trajectory.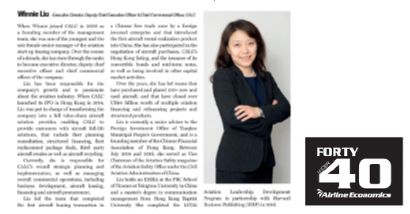 Winnie Liu is one of the six women named the top future leader this year.
Ms. Winnie LIU, Executive Director, Deputy CEO and Chief Commercial Officer of CALC, said, "I am very honored to have made it onto this year's list. I would like to thank CALC and the team, as well as our business partners, for their continuous support over the years. This recognition will inspire me to stay focused on the aviation sector and to make further contributions towards aviation financing and operation development."
Mr. Mike POON, Chief Executive Officer of CALC, said, "We are proud to see Winnie on the list of '40 under 40'. This well-deserved recognition is a reflection of Winnie's dedication to the aviation industry and CALC's commitment to diversity. We believe strongly that diversity drives innovation and has a significant and positive impact on industry development."
Winnie LIU joined CALC in 2006 as a founding member and rose through the ranks to her current position. In addition to aircraft leasing, she is actively involved in other areas along the global aviation value chain, including investment and airport operations, as well as aircraft disassembly and recycling, in support of CALC's goal to provide tailor-made full life-cycle aircraft solutions for global airlines.