Tianjin – 23 September, 2016, China Aircraft Leasing Group Holdings Limited ("CALC" or the "Group", SEHK stock code: 01848), the largest independent aircraft operating lessor in China, is pleased to announce that the Group has entered into a financing framework agreement ("the Agreement") with the Export-Import Bank of China ("China EXIM Bank") during the 5th China Air Finance Development Summit in Tianjin. According to the Agreement, China Asset Leasing Company Limited, a wholly-own subsidiary of the Group, is expected to obtain a credit line from China EXIM Bank to import four aircraft.
The signing of this Agreement highlights China EXIM Bank's continued funding support for the Group's future development. It signals a vote of confidence for CALC's unique business model and sustainable growth trajectory which supports the Group's globalization strategy and fleet expansion plan. Drawing upon strong support from national policy banks which endorse the state directive of helping Chinese enterprises to expand outside of China, CALC will continue to "venture out" by growing its client base to include both domestic and international airlines.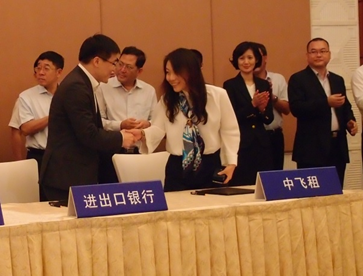 Zefeng Gao, Deputy General Manager of Aviation Department, China EXIM Bank (left) and Winnie Liu, Deputy CEO and Chief Commercial Officer, CALC (right) signed the financial framework agreement at the China Air Finance Development Summit in Tianjin
Since the Group entered into its first strategic cooperation agreement for a credit line of RMB 10 billion with China EXIM Bank in 2014, both parties have established a good long-term working relationship. As a national policy bank in China, China EXIM Bank plays an important role in supporting overseas investments and the development of outstanding enterprises with strong competitive advantages. The signing of the latest Agreement showcases China EXIM Bank's commitment to improve international trade and economic cooperation, supporting Chinese leasing companies to "venture out" and to promote China-made large aircraft globally.
Ms. Winnie LIU, Deputy Chief Executive Officer and Chief Commercial Officer of CALC, said, "We would like to thank China EXIM Bank for its confidence in and support for CALC. As a pioneer in China's aviation financing industry, we are well positioned in the fast growing aircraft leasing industry. Going forward, we will continue to explore flexible and innovative financing channels and to provide full-value aircraft solutions for both domestic and international clients. In short, we will seize every opportunity to create sustainable growth and achieve our goal of becoming a top-tier aircraft service provider with a global reach by leveraging our competitive advantage as an industry leader."