Hong Kong – 31 May 2016 - China Aircraft Leasing Group Holdings Limited ("CALC" or the "Group", stock code: 01848.HK), the largest independent aircraft operating lessor in China, today signed an approximately US$195 million syndicated loan facility with a consortium of 6 financial institutions, marking its debut in the syndicated loan market. The facility which was oversubscribed will be used to finance part of pre-delivery payments of Airbus A320 family aircraft, which are expected to be delivered in 2019 and 2020.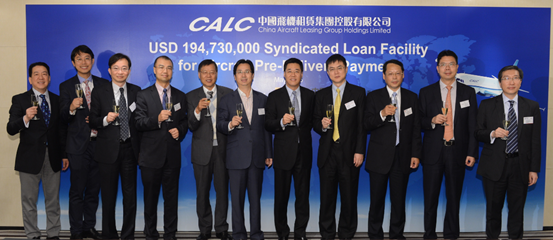 Mr Chen Shuang, Chairman and CEO of CALC (5th right), and the representatives from financial institutions, joined toast for the signing of syndicated loan facility.
Mr. Chen Shuang, Chairman and CEO of CALC said, "CALC is delighted with the reception of the syndicate banks to its debut deal. The facility is a further endorsement of our exceptional business model and prospects, following the successful launch of our USD300 million unsecured bonds in the international bond market earlier this month. We are particularly pleased to see that more financial institutions begin to get in the aviation finance sector, reflecting their increasing interest in the industry returns, as well as their growing knowledge and confidence in the aircraft leasing industry. CALC will continue to explore different financing alternatives, in order to support its long-term and sustainable growth while reducing its funding cost."
"Aviation financing is relatively new to Asia, yet we managed to bundle several aircraft in this landmark transaction, thanks to the effort of our team and the syndicate banks. We look forward to developing more new and diversified financing arrangements with our banking partners, to further improving CALC's liquidity in order to support our fleet expansion plan and globalisation strategy." added Mr. Barry Mok, Deputy CEO and Chief Financial Officer of CALC.
China Everbright Bank Co., Ltd. (Hong Kong Branch) acted as the mandated lead arranger, bookrunner and coordinator of the syndicated loan facility. Chong Hing Bank Limited, Shanghai Pudong Development Bank Co., Ltd. (Hong Kong Branch), China Merchants Bank Co., Ltd. (Hong Kong Branch), Mega International Commercial Bank Co., Hong Kong Branch and Sinopac Leasing Co., acted as the mandated lead arrangers.