Accelerates global expansion by enhancing international financing network Hong Kong – 2 November 2015 - China Aircraft Leasing Group Holdings Limited ("CALC" or the "Group", stock code: 01848.HK), the largest independent operating aircraft lessor in China, has taken delivery of the first aircraft from its large order of 100 Airbus aircraft placed in December 2014 and completed the first delivery to its new customer Air Macau Company Limited ("Air Macau"). The aircraft is financed by The Korea Development Bank, KDB Asia Limited, and KEB Hana Bank, marking CALC's first aircraft financed by Korean financial intuitions.
The delivery was completed on 29 October at the facilities of Airbus in Hamburg, Germany. The newly delivered A321 aircraft is the 57th delivered aircraft of CALC's fleet. This is Air Macau's first aircraft with an operating lease and the 10th A321 operated by the carrier. CALC and Air Macau signed leasing agreements for four aircraft (one A320 Airbus and three A321 Airbus) on 29 May 2015. The remaining aircraft will be delivered by early 2016.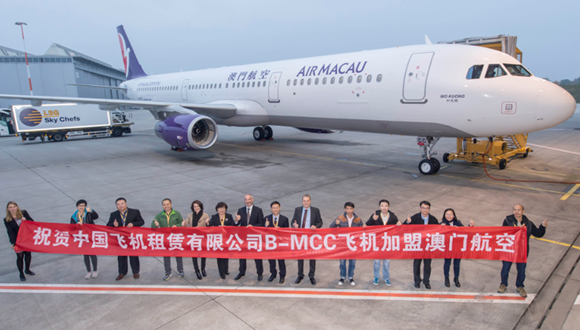 "Being able to complete the first delivery in just 5 months shows the high level of professionalism and efficiency of the Air Macau team, and also reflects the seamless cooperation between us." Stephane Depeyre, Vice President, Sales and Marketing of CALC commented, "The arrangement with Air Macau also demonstrates CALC's competence to timely address customers' needs with fast and flexible delivery schedule by leveraging our close relationship with Airbus. For that, we must thank Airbus for the continued support, and for delivering our first aircraft in less than a year after our purchase agreement signed in December last year."
This financing by The Korea Development Bank, KDB Asia Limited, and KEB Hana Bank covers two of the A321 aircraft being delivered to Air Macau. Among the transaction parties, KDB Asia Limited is the facility agent and security trustee, Norton Rose Fulbright (Asia) LLP acts as the transaction counsel representing the lenders and William KK Ho & Co as the transaction counsel representing CALC.
Mr. Barry Mok, Chief Financial Officer of CALC, said, "We are pleased to have obtained our first financing by the top-tier Korean banks. The Korea Development Bank is South Korea's largest shipping and aviation house while KEB Hana Bank is the largest bank by asset size in South Korea. The arrangement further enhances our international financing network. Together with the ECA financing and our facilities framework agreement with the Export-Import Bank of China, CALC has built up a number of important international financing alternatives supporting our global business expansion. We would like to thank The Korea Development Bank, KDB Asia Limited, and KEB Hana Bank for their support, and all the professional parties involved in the Air Macau aircraft financing project. We look forward to extending such alternatives to more airlines customers while we are stepping up our efforts to expand into the international markets."
CALC is continuously building up its fleet and expanding its international aircraft leasing business. The delivery today marks the 57th delivered aircraft of CALC's fleet, while it is currently on schedule to expand to 168 aircraft by 2022. Besides, its partnership with Air Macau is another significant step for CALC's overseas development. The momentum has carried the lessor into collaboration with other overseas airlines clients in the year, including its beginning of the European adventure, and the expansion into other Asian markets. CALC is currently implementing a clear global expansion strategy targeting to build a mix of 50/50 Chinese and non-Chinese airlines client split by 2020.