Hong Kong – 30 October 2015 - China Aircraft Leasing Group Holdings Limited ("CALC" or the "Group", stock code: 01848.HK), the largest independent operating aircraft lessor in China, completed the delivery of the fifth A320 aircraft to Air India Ltd. ("Air India") at the facilities of Airbus in Toulouse, France on 28 October 2015, marking the 56th delivered aircraft of CALC's fleet.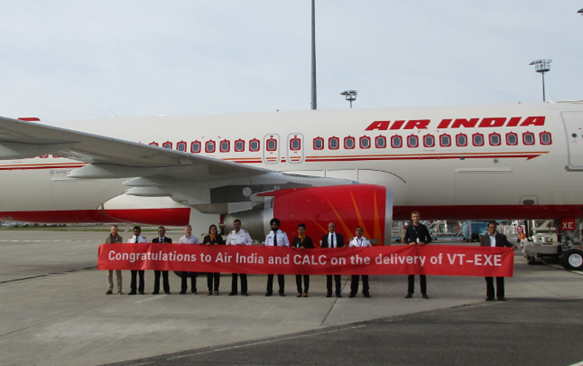 Along with the four aircraft which have already been delivered earlier this year, CALC has completed deliveries of five A320 aircraft to Air India under a 12-year operating lease agreement signed in September 2014. Air India is CALC's first non-Chinese customer while the transaction was the first time for the national carrier to cooperate with a Chinese enterprise. The fast and flexible delivery arrangements again demonstrate high levels of collaboration and innovation of CALC's team, as well as its close relationship with Airbus.
The newly delivered A320 aircraft, configured with maximum takeoff weight (MTOW) of 77 tons and Required Navigation Performance (RNP) Authorization Required (AR), is equipped with Sharklets, 2.4-meter tall new wingtip devices, which enhance the fuel-efficiency resulting in up to 4% lower fuel burn. Light-weight Dragonfly Z85 cabin seats are also installed.
CALC's partnership with Air India is a milestone for CALC's overseas development. During the year, CALC has stepped up its international expansion and succeeded in expanding into the European market. The Group is adopting a clear strategy to diversify its client base and increase its overseas market share. It targets to build a blend of 50/50 overseas and domestic airlines client mix by 2020.