Tianjin – 30 September 2015 - China Aircraft Leasing Group Holdings Limited ("CALC" or the "Group", stock code: 01848.HK), the full value-chain aircraft solution provider, reviewed with industry leaders at the 4th China Air Finance Development (DFTP) Summit the support from Dongjiang Management Committee regarding the innovative systems and policies of Dongjiang Free-Trade Port ("DFTP"), shared CALC's mission of "Creating value for China's Aviation Development", and revealed the Group's strategy to contribute to China's aviation finance development through DFTP.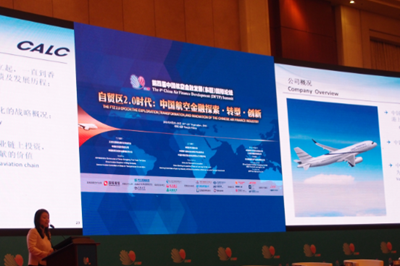 The Group's wholly-owned subsidiary, China Asset Leasing Company Limited ("China Asset Leasing"), signed a facilities framework agreement with the Export-Import Bank of China, and a strategic cooperation agreement with Bank of China (Tianjin Branch) at the Summit, under the witness of aviation finance professionals from all over the world.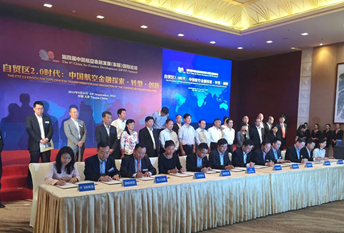 Facilities Framework Agreement with the Export-Import Bank of China
According to the agreement, the Export-Import Bank of China will provide China Asset Leasing with intent credit facilities to support its aircraft import and/or purchase of China-made aircraft. In November 2014, the bank has already entered into a framework agreement with the Group for an intent credit line of RMB10 billion. Based on the good foundation, the cooperation will further support CALC's fleet expansion strategies, by offering a solid capital backup for the Group's business development in both the domestic and overseas markets.
Ms. Winnie Liu, Executive Director and Executive Vice President of CALC said, "The financing support from the Export-Import Bank of China reflects the bank's confidence in our credit rating. It also reinforces the government's recognition of our globalisation strategy, supporting CALC to excel in the highly competitive and rapidly changing international aviation leasing market. It also echoes the unique value of the Export-Import Bank of China in promoting bilateral relationship and international economic cooperation. With our strategic position as a full-value chain aircraft solution provider, CALC will continue to support the nation's "The Belt and Road Initiative" and transportation asset planning, to align with government's development strategies, and to further support China to become a growth driver of the regional and world economies. "
The key mandate of the Export-Import Bank of China is to implement government policies, to assist Chinese companies with competitive advantages in their offshore project contracting and outbound investment, and to promote international economic cooperation and trade. This framework agreement aligns with the nation's support for aviation transportation and leasing industry in financing, and facilities the Group to expand overseas by leasing aircraft to foreign airlines.
Signs strategic cooperation agreement with Bank of China (Tianjin Branch)
China Asset Leasing also signs a strategic cooperation agreement with Bank of China (Tianjin Branch), agreeing to further strengthen and expand areas of cooperation, and to promote business development and resources sharing to achieve mutual benefits. Under the agreement, China Asset Leasing will become a strategic partner of Bank of China (Tianjin Branch) who shall preferentially provide the Group with a full range of financing support and banking services. Meanwhile, CALC shall regard Bank of China (Tianjin Branch) as one of its key banks, and preferentially consider the bank's financing products and banking services.
Ms. Liu commented, "Bank of China is one of the most historical banks in China and one of the largest banks in the world, its management and development always stay at a leading position in China's financial industry. We are honoured to have further strengthened our business cooperation with Bank of China, to consolidate our long-term and stable strategic partnership, and to achieve win-win situation via our business platforms. Thanks to the comprehensive and favourable financial services offered by Bank of China, China Asset Leasing would manage to concentrate on asset management and increase capital efficiency in order to optimise the development of our aircraft leasing business."
First Leasing Medium Term Notes granted "Innovation Award"
Moreover, CALC's issuance of medium term notes this year was granted "Innovation Award - First Leasing Medium Term Notes" at China Air Finance Awards. CALC's innovative DNA and quality financial products, as well as its influence for the industry development are once again recognised.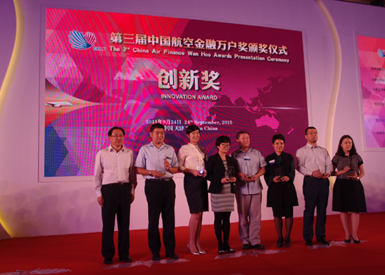 The Group issued its medium term notes in China on 20 July 2015. It was the first aircraft leasing company in the PRC, as well as the first enterprise in the Tianjin Free Trade Zone to issue medium term notes. The registered amount of the medium term notes is RMB 340 million with a maturity of five years. The notes are rated AA by China Cheng Xin International Credit Rating Co. Ltd, a renowned credit rating agency. The issuance leads the Group to open up domestic capital markets and new financing channels, build a solid foundation of the Company to become a full-value chain aircraft solution provider.
Dongjiang – The strategist and facilitator of China aviation leasing industry
In the past five years, Tianjin Dongjiang has not only developed into the nation's leader in terms of business innovation and scale of development, it has also entered into a blossoming era of aviation financing. At the Summit, Dongjiang Management Committee, the People's Bank (China Tianjin Branch), Tianjin Dongjiang Customs, State Administration of Foreign Exchange ("SAFE") (Binhai New Area Branch) and State Administration of Tax (Tianjin Municipal Office) announced 8 policies for enhancing DFTP's leasing businesses. The policies include permission of operating lessor to accept rental payment in foreign currency, relaxation of foreign exchange restrictions, encouraging professional development, and setting up of export and offshore businesses by leasing companies, as well as encouraging leasing-related service providers to set up offices in DFTP. These policies would further strengthen the core advantages of DFTP as an innovator and pioneer in the industry.
China Asset Leasing Company Limited, CALC's wholly-owned subsidiary, founded in DFTP in December 2010, is the first foreign capital-owned company in Dongjiang. With the system support of Dongjiang, China Asset Leasing has developed into a corporation with registered capital of US$300 million and a total lease assets of 12.3 billion as at the end of June 2015. To date, it has delivered over 40 aircraft through the Dongjiang platform. China Asset Leasing is enlisted one of the 9 pilot enterprises for the Centralised Operation of Forex Capital of Multinational Companies Programme in Tianjin, approved by SAFE. China Asset Leasing is the first ever leasing company in China which is allowed to form a cross-border foreign currency fund pool. It is also the only leasing company in China which is qualified for the programme.