Tianjin - 19 June 2015 - China Aircraft Leasing Group Holdings Limited ("CALC" or the "Group", stock code: 01848.HK), the largest independent operating aircraft lessor in China, today delivered a new A320-200 aircraft to Sichuan Airlines at the facilities of Airbus in Tianjin, China. The delivery also marks CALC's milestone of expanding its fleet size to 50 aircraft, all under operating lease.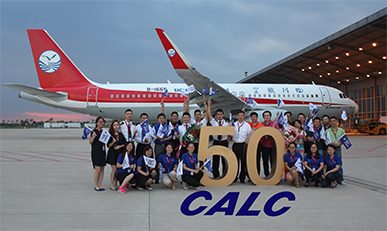 Every aircraft counts for CALC. Its 50th aircraft highlights CALC's achievement to date, and marks a new chapter in its development. More importantly, it reinforces the lessor's commitment to China aviation financing industry.
The newly delivered A320 aircraft is the 50th commercial aircraft in CALC's portfolio. The majority of its fleet are Airbus 319/320/321 series. CALC's strong clientele includes top-tier Chinese and Asian airlines as well as a newly established regional airline. CALC is committed to providing its airline customers with full value-chain aircraft solutions.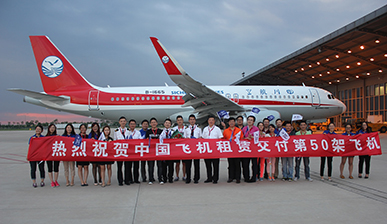 Over the past nine years since its establishment, CALC has introduced a number of innovative aircraft leasing structures to China. Established in Hong Kong in 2006, CALC was the first aircraft leasing company funded by Chinese capital. CALC set up its wholly-owned subsidiary in Tianjin Free Trade Zone ("FTZ") in 2010, becoming the first foreign-owned company with a branch in the FTZ. CALC also introduced the dual-platform leasing model to China, establishing a showcase in aircraft financing industry development, from new policies setting to implementation, which covered the areas of customs, foreign exchange and taxation.
In 2013, CALC acquired three 24-year-old obsolete A300 freighters from China Eastern Airlines. With professional MRO work done by CALC's engineering team, the three freighters were sold overseas and operated under EASA airworthiness standard operations. CALC then leased new aircraft to China Eastern Airlines in return and became the first in China to complete a package deal of fleet upgrade. Upon the completion of the first successful deal, CALC has been devoted to the development of its old aircraft solution business. In 2014, CALC signed a Memorandum of Understanding with the Municipal Government of Harbin for the establishment of China's largest aircraft disassembly project, with an objective to develop it into one of the largest commercial aircraft disassembly centres in the world. To date, CALC is adopting a unique business model and business strategy with a positon of "full-life aircraft solution provider", formulating a sustainable and scalable business model.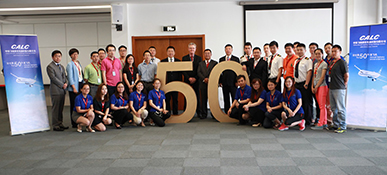 CALC is also active in bringing in innovative financing solutions, and in developing diversified financing channels, facilitating clients to improve liquidity, reduce costs and advance risk management. It has entered into strategic cooperation agreements with China Development Bank, Export-Import Bank of China, China Construction Bank, and Bank of Communications respectively. Besides, CALC closed the first ever deal of lease receivables realization in China, demonstrating another showcase in the industry. It then completed similar transactions with a number of insurance companies and financial institutions. The Group is listed on the Stock Exchange of Hong Kong in 2014 which demonstrates recognition from the equity market. In 2014, CALC successful obtained ECA guarantee loan that activated the Group's global business expansion strategy while the successful issuance of the medium term notes by CALC's Tianjin subsidiary in 2015 made CALC the first aircraft lessor to have obtained approval from National Association of Financial Market Institutional Investors.
CALC's aircraft fleet is growing progressively through direct order of aircraft. In 2011, CALC ordered 20 domestic aircraft C919, and became the first customer upon its launch. During Farnborough Air Show 2012, CALC announced its orders for 36 A320 series aircraft, and announced an additional order of four later on. In December 2014, CALC placed a large order of 100 Airbus A320 series aircraft, including 74 A320neos, which is the largest single order from a Chinese lessor and brings CALC's cumulative order book to 140 A320 series aircraft.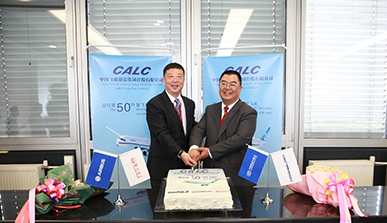 Mr. Jerry Duan, Senior Vice President, Technical and Asset Management of CALC said, "The 50th aircraft delivery is a remarkable moment to CALC. Each of our 50 aircraft has witnessed our growth. They also reflected CALC's achievement thanks to the contribution by our professional team. The team has overcome all the challenges along the way, achieving CALC's advancement and steady development. On behalf of CALC, I would like to express our gratitude to our airline customers and banking partners for their trust and support, which fuels our business innovation and development. We would also like to thank for the local government for the favorable leasing environment, as well as the guidance from the CAA. Last but not least - gratitude to Airbus for their prestige aircraft products and all-rounded support. CALC is determined to become a full value-chain aircraft solution provider of more innovative, flexible and high value offering, aiming to be a leading lessor and aircraft asset manager in the world."
The successful delivery of the 50th aircraft strengthens the capacity for CALC's overseas expansion. The committed aircraft orders and recent joining of leading expert in aviation financing further solidify the foundation for our continued internationalized businesses. CALC will step up our effort in overseas expansion and in enhancing our cooperation with prominent overseas airlines and financial institutions, in order to create more new chapters for the healthy, sustainable and diversified development of CALC."