PARIS AIR SHOW, Paris, June 17, 2015 – China Aircraft Leasing Group Holdings Limited ("CALC"; stock code: 01848.HK), the largest independent operating aircraft lessor in China, has signed a Memorandum of Understanding to power 18 Airbus A320neo aircraft with Pratt & Whitney PurePower engines. Deliveries are scheduled to begin in 2017. Pratt & Whitney is a United Technologies Corp. (NYSE:UTX) company.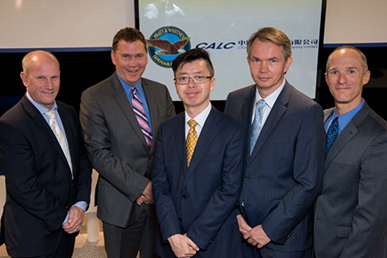 Middle: Mr. Pitney Tang, SVP – Transaction and Banking, CALC;
2nd from right: Mr. Jens Dunker, SVP - Aircraft Trading and Global Marketing, CALC
"The A320neo aircraft powered by PurePower engines is a great asset to add to our fleet, as it offers our customers a broad range of benefits, including fuel burn improvement, lower emissions and less noise while reducing operating cost," said Jens Dunker, Senior Vice President - Aircraft Trading and Global Marketing of CALC. "CALC was the first Chinese lessor to select the PW1100G-JM engine for its A320neo aircraft. Ordering for next generation narrow bodies is part of our long-term growth strategy. It also reflects our commitment to the aviation industry, as well as our continued effort of introducing value-added offerings to our airline customers."
"CALC is a premier aircraft lessor in the Chinese and international markets and our PurePower engines coupled with the A320neo family aircraft will nicely complement its current fleet offering," said Greg Gernhardt, president, Pratt & Whitney Commercial Engines. "The Geared Turbofan™ engine is delivering significant savings to airline operators with a greater than 16 percent fuel burn improvement over aircraft equipped with current generation engines. This makes the engine very appealing to lessors who strive to pass on savings to their customers."
CALC is rapidly expanding its portfolio to meet airlines' strong demands for cutting-edge and reliable aircraft offerings to capture the market opportunities. This PurePower engine announcement is in addition to a V2500 engine order for eight A320ceos previously ordered by CALC.
"CALC will continue to invest in advanced technology and innovation solutions to develop CALC into a full value-chain aircraft solution provider with global presence," said Mr. Jerry Duan, Senior Vice President - Technical and Asset Management of CALC. CALC's portfolio is currently made up of 49 current generation Airbus and Boeing aircraft with an average age of 2.5 years. In December 2014, CALC placed a large order of 100 Airbus A320 series aircraft, bringing its order book to 140 A320 series aircraft.
# # #
China Aircraft Leasing Group Holdings Limited is the largest aircraft operating lessor in China, in terms of new aircraft import under lease each year. With its professional team possessing extensive international aviation market experience and its globalized sources of financing, the Group has developed into a full value-chain aircraft solution provider. In addition to aircraft operating lease, financial lease and sales and leaseback, CALC provides customers with aircraft full-life solutions, covering fleet planning consultation, structured financing, fleet replacement package deal, third party aircraft resale as well as aircraft disassemble.
CALC currently owns and manages a portfolio of 49 commercial aircraft, and aims at building a portfolio of 100 commercial aircraft by 2016. Listed on the main board of the Stock Exchange of Hong Kong on 11 July 2014, CALC is the first listed aircraft lessor in Asia. The Group is headquartered in Hong Kong, with offices in Beijing, Shanghai, Shenzhen and Tianjin, China; Labuan, Malaysia; Toulouse, France and Dublin, Ireland. For more information about CALC, visit http://www.calc.com.hk.
Pratt & Whitney is a world leader in the design, manufacture and service of aircraft engines and auxiliary power units. United Technologies Corp., based in Hartford, Connecticut, provides high-technology systems and services to the building and aerospace industries. To learn more about UTC, visit its website at www.utc.com, or follow the company on Twitter: @UTC.
For more information about Pratt & Whitney, visit http://www.pratt-whitney.com
Twitter: www.twitter.com/prattandwhitney
Facebook: https://www.facebook.com/prattandwhitney
YouTube: http://www.youtube.com/prattandwhitney1925
LinkedIn: https://www.linkedin.com/company/pratt-&-whitney
For more information, please contact:
China Aircraft Leasing Group Holdings Limited
pr@calc.com.hk or office@calc.aero
This press release contains forward-looking statements concerning future business opportunities. Actual results may differ materially from those projected as a result of certain risks and uncertainties, including but not limited to changes in levels of demand in the aerospace industry, in levels of air travel, and in the number of aircraft to be built; challenges in the design, development, production and support of advanced technologies; the ability of the parties to reach a definitive agreement for the sale and support of engines; as well as other risks and uncertainties, including but not limited to those detailed from time to time in United Technologies Corp.'s Securities and Exchange Commission filings.