23 December 2014, Hong Kong - China Aircraft Leasing Group Holdings Limited ("CALC" or the "Group", stock code: 01848.HK), the fastest-growing independent aircraft operating lessor in Greater China, announced the delivery a new A320 aircraft to Juneyao Airlines.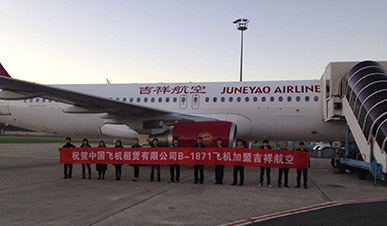 Upholding principles of high quality service and operation, Juneyao Airline has been expanding in fast pace despite the keen competition in the air transportation market. CALC is honored to cooperate with Juneyao Airlines for the first time for aircraft delivery, matching the fleet expansion and business development plan of this high-growth potential airline.
The aircraft was delivered at the facilities of Airbus in Toulouse, France on 22 December 2014 marking the 44th aircraft of CALC's fleet. Within the year of 2014, CALC has delivered 19 aircraft, outperformed the annual target set, and is all ready to pursue higher achievement in 2015.
With years of extensive experience in onshore and offshore leasing project execution in the aviation industry and diversified financing network and channels, CALC strives to provide airline customers with comprehensive services of the highest quality. Led by the professional management team and our strong shareholder base, CALC has entered into high-growth development stage and is developing into the international market offering domestic and overseas airline customers with highly customized value-adding full value-chain aircraft solutions.
For more information, please contact:
China Aircraft Leasing Group Holdings Limited
ir@calc.com.hk or office@calc.aero
About Juneyao Airlines Co. Ltd.

Juneyao Airlines Co. Ltd. (Juneyao Airlines) is a subsidiary company of Shanghai Juneyao (Group) Co. Ltd, one of China's Top 100 Private Companies. Juneyao Airlines owns 500 million RMB registered capital. Based in Shanghai and operating hubs at Hongqiao and Pudong International Airports. Currently, Juneyao Airlines has owned over 36 brand-new Airbus A320 aircrafts through purchase and leasing, and its flight routes originating from Shanghai (Hongqiao and Pudong Airports) cover over 60 flight routes over China and Asia. Since its maiden flight in September 2006, Juneyao Airline has kept a good record of safety operation. In July 2009, Juneyao Airlines officially received the IATA Operational Safety Audit (IOSA) registration certificate.
As one of the fastest growing airlines in China, Juneyao Airlines, upholding its service and operating principles under the keen competition in aviation transport market, strives to become a quality branded airlines in the coming 5 to 10 years.