5 September 2014, Hong Kong - China Aircraft Leasing Group Holdings Limited ("CALC" or the "Group", stock code: 01848.HK), the fastest-growing independent aircraft operating lessor in Greater China, announced the delivery of the third A320 aircraft to China Eastern Airlines Corporation Limited ("CES") on 5 September 2014.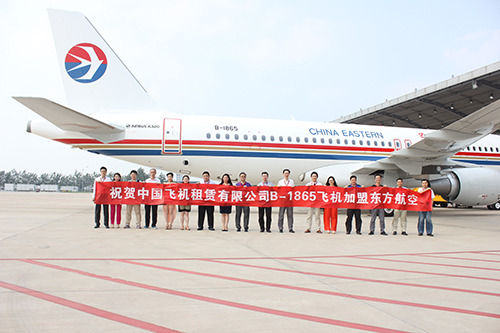 The aircraft was delivered at the facilities of Airbus in Tianjin, China on 5 September 2014. This is the third aircraft being delivered under an operating lease between CALC and CES encompassing the delivery of six A320 aircraft to CES.
The aircraft delivered was independently acquired by CALC as part of CALC's 36 A320 family order with Airbus S.A.S. It is powered by CFM56 engines, featuring a comfortable two-class cabin with 8 business and 150 economy class seats and equipped with Sharklets, 2.4-meter tall new wingtip devices made from light-weight composites, which enhance the fuel-efficiency and payload-range performance of the A320 Family resulting in up to 4% lower fuel burn over longer sectors.
For more information, please contact:
Jens Dunker
Tel: +33.5.67190283
Email: office@calc.aero
About China Eastern Airlines Corporation Ltd.
Headquartered on the grounds of Shanghai Hongqiao International Airport in Shanghai, China, China Eastern Airlines ranks among the world's top 5 airlines in terms of passenger transportation volume. As one of the three major airlines in mainland China, it flies a fleet of more than 430 long-haul and short-haul aircraft with an average age of less than seven years.
China Eastern Airlines is the core enterprise of China Eastern Group and the first Chinese airline company to be listed in Hong Kong, New York and Shanghai with registered capital of RMB4.86695 billion. China Eastern Group is also the major shareholder of the airline holding an interest of 61.64%.