Hong Kong – 15 November 2017, CALC (the "Group", SEHK stock code: 01848), a full value-chain aircraft solutions provider for global airlines, is pleased to announce that it was named "APAC Lessor of the Year" by Airline Economics, one of the most widely-read and renowned publications in the global aviation industry.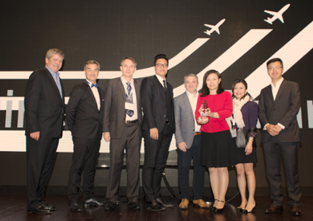 "APAC Lessor of the Year" recognizes the year's most outstanding performer in the aviation leasing industry. The award is based on a rigorous survey, with the criteria including fleet size, financial performance, client list, lease rate performance, among others. Over the years, CALC has grown into a full-value aircraft solutions provider, utilizing its expertise to create innovative, value-added fleet management solutions for airlines worldwide. This award demonstrates CALC's long-term commitments and innovative products are highly recognized by the global players.
Mr. Mike POON, Chief Executive Officer of CALC, said, "We are proud that CALC once again showcased its advantages in the aircraft leasing and aviation finance industry. Alongside with the development of our global life cycle solutions platform, CALC has explored numerous financing alternatives in the international market, including the launch of our debut unsecured syndicated loan recently. The Group will continue to provide flexible and innovative solutions in the capital market in order to satisfy clients' needs, and expand our fleet size at a sustainable and accelerated pace."
Airline Economics is a bimonthly aviation magazine that produces exclusive surveys and interviews key players in the aviation industry. Its awards are widely recognized throughout the industry.