Hong Kong – 5 March 2018, CALC (the "Group", SEHK stock code: 01848), a full value-chain aircraft solutions provider for global airlines, is pleased to announce that CALC has appointed Ms. Hatty Cheung as the Group's new Chief Risk Officer with immediate effect.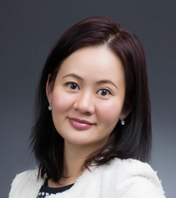 Ms. Hatty Cheung, Chief Risk Officer
Hatty will be responsible for CALC's risk management and internal controls. With over 20 years of extensive international exposure, Hatty has in-depth understanding of enterprise risk management gained through her wide range of experience in auditing, internal controls, process re-engineering, corporate governance, and financial planning and analysis. She has also worked with the best-in-class Fortune 500 multinational companies and world leaders in their respective industries, including The Dairy Farm Group, PepsiCo Inc., The Coca-Cola Company and IBM Ltd. With her wealth of knowledge and experience, she will further improve the Group's risk management framework and can also analyze all risk-related issues in the Group. Hatty will also help to enhance CALC's corporate governance structures and optimize the Group's business model.
Mr. Mike Poon, Chief Executive Officer of CALC, commented, "We are pleased to have Hatty, a seasoned finance executive with a strong track record in risk control, joining our team, and we believe her experience and perspective is a fantastic addition to CALC. CALC believes that risk management is an indispensable part of its overall strategic planning and will continue to draw upon our team's expertise to improve risk management in the future."
Ms. Hatty Cheung, Chief Risk Officer of CALC, said, "It is my honour to be appointed CRO of CALC. I look forward to the opportunity to enhance CALC's existing risk infrastructure as it rapidly expands its business scale and global presence. I am particularly excited about working with a talented and passionate team who are united in their determination to deliver sustained success in the aviation business."
-END-