Hong Kong – 6 December 2017, CALC (the "Group", SEHK stock code: 01848), a full value-chain aircraft solutions provider for global airlines, celebrated its 100th aircraft delivery with the debut delivery of an Airbus A320neo passenger jet to Frontier Airlines.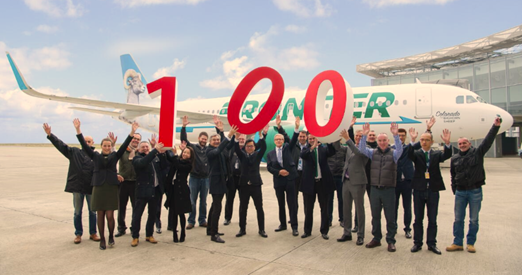 CALC welcomes its 100th Aircraft and its first A320neo delivery to Indigo Partners' Frontier Airlines in Toulouse, France
This is the first new engine option aircraft that CALC has added to its fleet, and the first that the Group has delivered to a US airline, Frontier Airlines, owned by Indigo Partners, a US-based private equity firm specialized in airlines investment and operations. Including this first Airbus A320neo, CALC will deliver four aircraft to airlines belonging to Indigo Partners before the end of the year, namely two A320neo aircraft to US-based Frontier Airlines and two A320ceo aircraft to the Chilean airline JetSMART. These deliveries mark an important milestone for CALC as the lessor continues to expand its global customer base. On the basis of its current fleet and signed agreements, over 30% of CALC's fleet will be on lease to non-Chinese airlines. CALC has clients across the world in North America, South America, the Middle East, Europe and Asia-Pacific.
CALC acquires aircraft directly from manufactures. Its total order book consists of 197 aircraft: 147 from Airbus and 50 from Boeing. As of September 2017, CALC ranked as one of the top 10 global aircraft lessors with its combined asset value of fleet and order book exceeding US$10 billion, according to ICF International, one of the world's largest and most experienced aviation and aerospace consulting firms. Backed by its strong order book and long-term relationship with the manufacturers, CALC has developed from the first operating lessor in China into a key player in the global aircraft leasing industry. CALC's unique business model offers services covering an aircraft's full life cycle to meet airlines' fleet management requirements, including services for new aircraft, used aircraft and aircraft coming to the end of their life.
Mr. Mike POON, Chief Executive Officer of CALC, said, "From 0 to 100 aircraft, CALC has come a long way thanks to the dedication of our team and the support from our business partners. Since its founding in 2006, CALC has been growing in parallel with the nation's aviation industry. We are proud to be a first-mover which has worked closely with the government in China and Hong Kong for pushing forward policy changes to facilitate the industry development." CALC is actively involved in the dialogues with the Hong Kong government regarding the latest tax reform, among other policy changes with an objective to building Hong Kong an international leasing hub. It is also establishing an aviation eco-system with mid-to-end of life aftermarket aircraft solutions in China to enhance the overall industry scale and efficiency, which would also advance CALC's full value-chain aircraft solutions.
"With a focus on providing reliable and flexible services for our airline clients, we are committed to product innovation. This delivery is the latest step in our evolution and reflects our desire to deliver greater value to our airline customers and other stakeholders. Having now delivered our first A320neo, not only have we commenced our cooperation with Indigo Partners, but we have also embarked on a new journey of continuous growth for the Group."
"We are proud of our partnership with CALC and are honored to celebrate with them the delivery of their 100th Aircraft," said Barry Biffle, president and CEO for Frontier Airlines. "Working with the right partner is key to our future success and ensures we deliver on our promise of low fares across the United States. We'd like to congratulate CALC on this important milestone."
Indigo Partners, the owner of Frontier Airlines, JetSMART, Wizz Air and Volaris, recently placed an order for 430 Airbus A320 series, one of the largest aviation deals in history.
Frontier Airlines, headquartered in Denver, is one of the most renowned low-cost carriers in the United States. It has a fleet of over 70 aircraft and currently serves more than 80 cities in the Unites States, Mexico and the Dominican Republic. The airline previously received the Federal Aviation Administration (FAA)'s 2015 Diamond Award for maintenance excellence, and was named the industry's most fuel-efficient airline by the International Council on Clean Transportation (ICCT). JetSMART is a low-cost Chilean airline with its primary operations hub at Comodoro Arturo Merino Benítez International Airport in Santiago, Chile. JetSMART currently has three A320 in operation and is expected to expand in the South American market.