Furthering its Expansion into High Growth Markets
Hong Kong – 14 December 2016 - China Aircraft Leasing Group Holdings Limited ("CALC" or the "Group", SEHK stock code: 01848), the largest independent operating aircraft lessor in China, is pleased to announce the successful delivery of a fourth Airbus A320 aircraft to Jetstar Pacific Airlines ("Jetstar Pacific").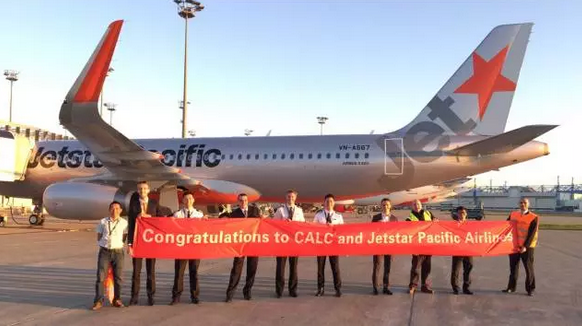 The successful delivery fulfils the lease agreements signed in November 2015 and January 2016 with Jetstar Pacific to supply four A320 aircraft. Ms. Winnie LIU, Deputy CEO and Chief Commercial Officer of CALC, commented, "Completion of all four deliveries in a year again proves CALC's competence in placing aircraft under quick delivery schedule, supporting its airline customers to grow in the dynamic and competitive aviation market by offering operating flexibility."
Ms. LIU added, "As a leading aircraft lessor and an important global player in the aviation industry, we are delighted to support the expansion of Jetstar Pacific's fleet, which allows it to grow in the Vietnamese market and increase the number of international routes it operates. Our successful partnership with Jetstar Pacific also lays the foundation for us to expand into South East Asia and in high growth markets, placing us in a position to become a full-fledged aircraft solution provider globally."
CALC's fleet consists of 76 current generation Airbus and Boeing aircrafts with an average age of less than 4 years, and is expected to expand to 173 aircraft by 2022. The Group has established strategic partnerships with a diverse range of leading airlines in Asia Pacific and Europe, and aims to build a balanced customer portfolio of Chinese and non-Chinese airline clients by 2020.
Launched in May 2008, Jetstar Pacific is Vietnam's first low cost carrier. Vietnam Airlines, the flag carrier of the country, owns a 70% stake in Jetstar Pacific, while the Qantas Group holds a 30% stake. Jetstar Pacific is a member of the Jetstar Group, which is one of the largest airline groups in Asia Pacific.