Hong Kong – 22 July 2016 - China Aircraft Leasing Group Holdings Limited ("CALC" or the "Group", stock code: 01848.HK), the largest independent aircraft operating lessor in China, today announced the delivery of a new Airbus A320 aircraft to Jetstar Pacific Airlines (''Jetstar Pacific"). A further three A320 aircraft are scheduled for delivery in secession this year, based on the lease agreements signed in November 2015 and January 2016. The latest delivery marks the start of CALC's foray in the Southeast Asian market, with its fleet now at 71 aircraft.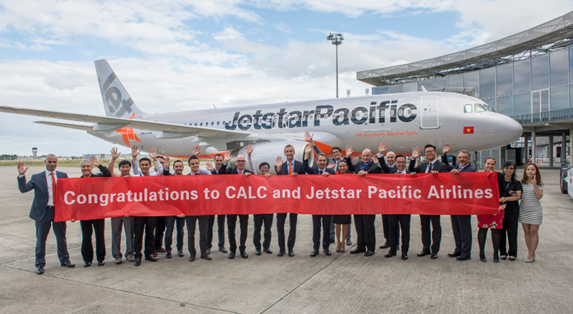 "The Group is very excited to take part in Jetstar Pacific's fleet expansion program. As part of the long-term commitment to Jetstar Pacific, Vietnam Airlines and Qantas Group planned to increase the size of the LCC's fleet to 30 aircraft over the next four years, in order to grow its Vietnamese market share and international routes, " said Ms Winnie Liu, Deputy CEO and Chief Commercial Officer of CALC. "With the growing number of middle class travellers, the skies of Southeast Asia would get much busier. We look forward to working closer with Jetstar Pacific while it consolidates its position in the fast-growing Southeast Asian market."
Mr Le Hong Ha, CEO of Jetstar Pacific said, "The new aircraft will allow us to expand our business as part of the wider Jetstar family. With low operating costs and a comfortable cabin, the A320 enables us to offer our passengers a quality value-based product and everyday low fares."
Launched in May 2008, Jetstar Pacific is Vietnam's first low cost carrier. Vietnam Airlines, the flag carrier of the country, owns a 70% stake in Jetstar Pacific, while the Qantas Group holds a 30% stake. Jetstar Pacific is a member of the Jetstar Group, which is one of the largest airline groups in Asia Pacific. The airline now operates 19 domestic and international destinations with 14 Airbus A320/321 aircraft and plans to expand the fleet up to 30 Airbus A320 aircraft by 2020.