Hong Kong – 27 January 2016 - China Aircraft Leasing Group Holdings Limited ("CALC" or the "Group", stock code: 01848.HK), the largest independent operating aircraft lessor in China, delivered the third and fourth aircraft to Air Macau Company Limited ("Air Macau") on 19 and 26 January 2016 respectively, according to the lease agreement for four aircraft (one A320 Airbus and three A321 Airbus) signed in May 2015. With the latest delivery, CALC's fleet has expanded to 65 aircraft.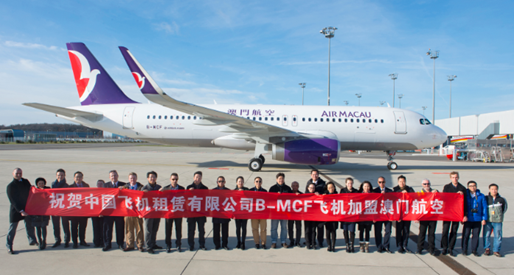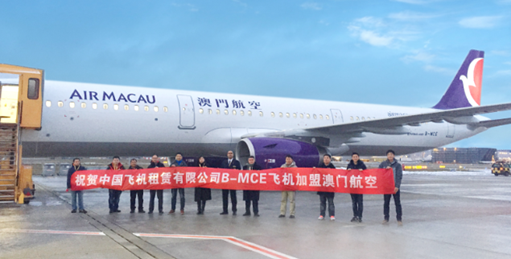 Two newly delivered aircraft is financed by Shanghai Pudong Development Bank Co., Ltd. (Hong Kong Branch). Ms Winnie Liu, Deputy CEO and Chief Commercial Officer of CALC said, "We are very pleased to have obtained our first aircraft financing from Shanghai Pudong Development Bank ("SPD Bank") and look forward to working with SPD Bank other aviation financing projects in the future. The bank has become a Fortune Global 500 company in 2015. The financing support from SPD Bank greatly facilitates CALC's global business expansion and enhances our financing network." CALC's partnership with SPD Bank began in 2015 when the bank acted as a lead underwriter and bookrunner for Group's issuance of Medium Term Notes, which was rated AA from China Cheng Xin International.
The first and second aircraft of the lease was delivered on 29 October and 21 December 2015 respectively. Completion of all four deliveries in eight months again demonstrates CALC's competence in placing new aircraft under quick delivery schedule, supporting the airlines with capital management efficiency and guaranteeing the flexibility which they required by the dynamic and competitive aviation market.
Air Macau is a regional International airline and the only one home-based airline in Macau. Air Macau provides direct flight service to the passengers whose travel destination is Macau. The Airline adopts the development strategies to replace the old aircraft to reduce its average age, renew the fleet constantly, complete the cabin refurbishment, and improve quality of service and safety continuously with the rapid expansion of network and the significant increase in flight frequency.
CALC's current portfolio consists of 65 current generation Airbus and Boeing aircraft with an average age of less than 4 years. The Group is speeding up its international expansion plans while strengthening its cooperation with Chinese carriers, and targets to build a balanced portfolio of Chinese and non-Chinese airline clients by 2020.