Hong Kong – 22 December 2015 - China Aircraft Leasing Group Holdings Limited ("CALC" or the "Group", stock code: 01848.HK), the largest independent operating aircraft lessor in China, completed its second delivery to Air Macau Company Limited ("Air Macau") on 21 December at the facilities of Airbus in Hamburg, Germany. The aircraft is financed by The Korea Development Bank, KDB Asia Limited, and KEB Hana Bank.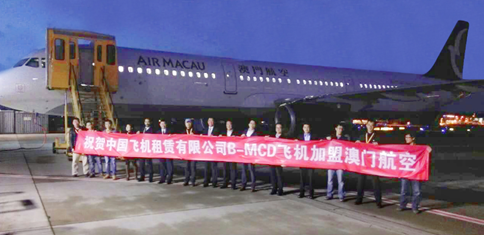 The newly delivered A321 aircraft is the 61st delivered aircraft of CALC's fleet. The completion of two deliveries within 7 months after signing of leasing arrangements again proves CALC's ability to deliver aircraft efficiently and fulfil the demand of global market. CALC and Air Macau signed leasing agreements for four aircraft (one A320 Airbus and three A321 Airbus) on 29 May 2015. The first delivery was completed on 29 October and the remaining aircraft will be delivered by early 2016.
Meanwhile, CALC has successfully developed its diversified global financing channels to support its overseas development. The aircraft delivered to Air Macau is CALC's second aircraft financed by South Korea's largest shipping and aviation house Korea Development Bank, and its Hong Kong arm, KDB Asia Limited, together with KEB Hana Bank, the largest bank by asset size in South Korea.
With its expertise in delivering outstanding services and providing effective financing solutions to a diverse range of customers, CALC is named the "Aircraft Lessor of the Year 2015" by the Global Transport Finance. The Group is stepping up its efforts in realizing its globalization strategy, actively expanding its international presence, and further diversifying its funding sources in the global market.