Hong Kong – 9 November 2015 - China Aircraft Leasing Group Holdings Limited ("CALC" or the "Group", stock code: 01848.HK), the largest independent aircraft operating lessor in China, completed the delivery of the first of six A320 aircraft to its long-term customer China Eastern Airlines Corporation Limited ("China Eastern Airlines" or "CEA") at the facilities of Airbus in Toulouse, France on 5 November 2015, marking the 58th delivered aircraft of CALC's fleet.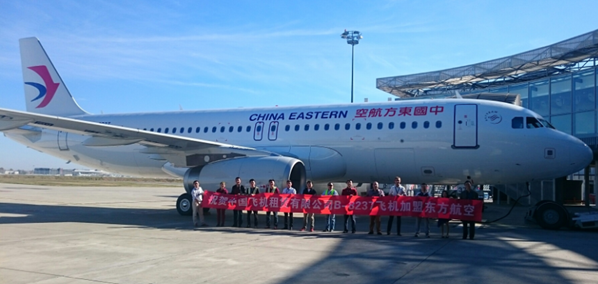 CALC and China Eastern Airlines signed agreements to lease six Airbus A320 aircraft on a 144-month lease terms in July 2015. The remaining aircraft are expected to be delivered by the first half of 2016.
The newly delivered A320 aircraft has adopted CEA's latest configuration - iridium wireless communication system and a head-up display system to enhance flight safety, as well as Sharklet wingtips to reduce fuel costs. The cabin is equipped with Recaro seats and Panasonic inflight entertainment system to offer CEA passengers a more comfortable experience.
CALC's long-term partnership with China Eastern Airlines began in 2013 when CALC purchased three used A300-600F aircraft from the carrier in conjunction with the placement of six new aircraft leases. For that, CALC became the first Chinese lessor completing a fleet upgrade covering both the disposal of old aircraft and the provision of new aircraft for its airline customer. The recent lease agreement have further broadened and deepened an already close relationship.
With its professional team possessing extensive international aviation market experience, CALC has continued to optimize tailored solutions for its airline customers and has grown into a full value-chain aircraft solution provider. The group is currently establishing the most sizeable aircraft disassembly facilities in China, with an objective to develop it into a premier global disassembly base by the end of the decade.