Hong Kong – 16 September 2015 - China Aircraft Leasing Group Holdings Limited ("CALC" or the "Group", stock code: 01848.HK), the largest independent operating aircraft lessor in China, completed the delivery of the fourth A320 aircraft to Air India Ltd. ("Air India") at the facilities of Airbus in Toulouse, France on 15 September 2015, marking the 55th aircraft of CALC's fleet.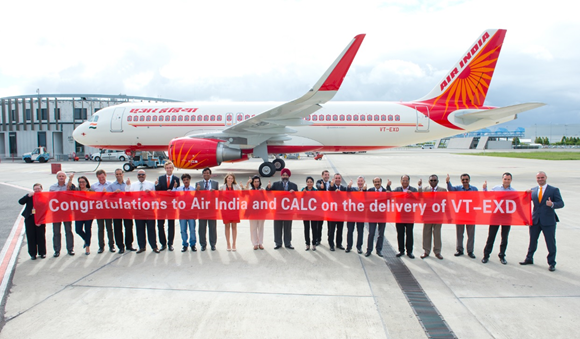 This is the fourth aircraft delivered under a 12-year operating lease agreement between CALC and Air India for five aircraft. The first three deliveries were completed in February, July and August 2015 respectively, the remaining aircraft will be delivered by the end of this year.
The newly delivered A320 aircraft, configured with maximum takeoff weight (MTOW) of 77 tons and Required Navigation Performance (RNP) Authorization Required (AR), is equipped with Sharklets, 2.4-meter tall new wingtip devices, which enhance the fuel-efficiency and payload-range performance of the A320-family resulting in up to 4% lower fuel burn over longer sectors. Light-weight Dragonfly Z85 cabin seats are also installed.
With the close business partnership with Air India, CALC has established a solid foundation for its overseas expansion. To capture the wealth of opportunities presented by the growing markets, the Group is adopting a clear strategy to diversify its client base and increase its overseas market share. It targets to build a mix of 50/50 overseas and domestic airlines client split by 2022.