Hong Kong – 9 September 2015 - China Aircraft Leasing Group Holdings Limited ("CALC" or the "Group", stock code: 01848.HK), the largest operating aircraft lessor in China, won the Honours Award of the Interior Design (Transportation & Leasing category) for its first annual report in the internationally-acclaimed ARC Awards.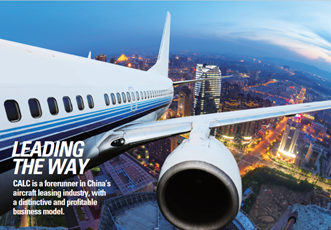 This is the first time that CALC was presented with the International ARC Awards, which reflects that the Group has complied with international standards in its annual report production. CALC will continue to produce high quality annual reports, and to maintain effective communication with our stakeholders and the public.

Organized by MerComm Inc., the International ARC Awards aims at providing a platform for honouring excellence and the highest standards of annual report design and production. Now in its twenty-seventh year, the international ARC Awards is the world's largest international annual reports competition. It is globally recognized and highly respected by the industry, and is considered as the "Academy Awards of annual reports" by the financial media. The panel of judges included a number of global leading lights in the investor relations and communications.