30 May 2015, Hong Kong - China Aircraft Leasing Group Holdings Limited ("CALC" or the "Group", stock code: 01848.HK), the largest operating aircraft lessor in China completed the delivery of its fifth A320 aircraft to Qingdao Airlines ("QDA") on 29 May 2015, at the facilities of Airbus in Toulouse, France.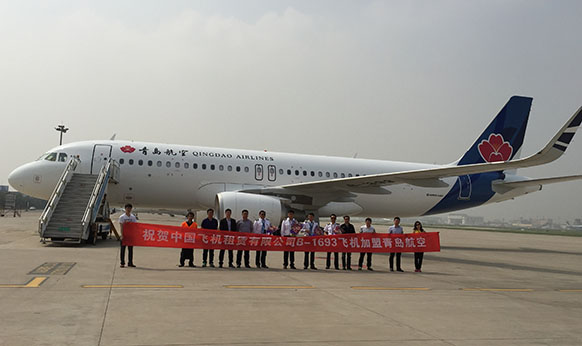 CALC and QDA entered into a lease agreement in August 2013 for five aircraft. The first four aircraft were delivered in April and May 2014, and January and April 2015 respectively. The newly delivered A320 aircraft is the 49th commercial aircraft in CALC's portfolio.
The aircraft is equipped with sharklets, a 2.4-meter tall wingtip device for fuel-efficiency enhancement. Panasonic inflight entertainment system is installed, and the economy seats are Pinnacle's light-weight seats.
CALC placed a large order of 100 Airbus A320 series aircraft in December 2014, bringing its order book to 140 A320 series aircraft, and its fleet is expected to grow to 168 aircraft by 2022. In addition, CALC signed a Memorandum of Understanding with the Municipal Government of Harbin for the establishment of China's largest aircraft disassembly project, with an objective to develop it into one of the largest civil aircraft disassembly centres in the world in the medium term.
With all these efforts, CALC has developed itself into a full-value chain aircraft solution provider and has made significant progress in expanding into international markets.