19 March 2015, Hong Kong - China Aircraft Leasing Group Holdings Limited ("CALC" or the "Group", stock code: 01848.HK), the fastest-growing independent aircraft operating lessor in Greater China, announced the delivery a new A320 aircraft to Sichuan Airlines, marking the 47th aircraft of CALC's fleet.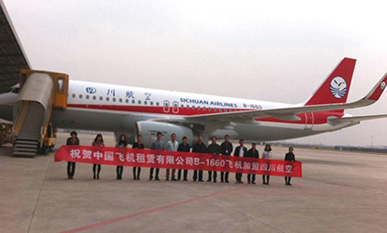 The aircraft was delivered at the facilities of Airbus in Tianjin, China on 19 March 2015. The A320 aircraft delivered is equipped with Sharklets, which enhance the fuel-efficiency and payload-range performance of the A320 Family resulting in up to 4% lower fuel burn over longer sectors. The aircraft is installed with Rockwell Collins inflight entertainment system and advanced B/E catering equipment.
Up and coming, CALC will deliver two more A320 aircraft to Sichuan Airlines according to the leasing agreement signed between CALC and Sichuan Airline in August 2014 s.
With years of extensive experience in onshore and offshore leasing project execution in the aviation industry and diversified financing network and channels, CALC strives to provide airline customers with comprehensive services of the highest quality. Led by the professional management team and our strong shareholder base, CALC has entered into high-growth development stage and is developing into the international market offering domestic and overseas airline customers with highly customized value-adding full value-chain aircraft solutions.
For more information, please contact:
China Aircraft Leasing Group Holdings Limited
ir@calc.com.hk or office@calc.aero
About Sichuan Airlines Co. Ltd.
Sichuan Airlines Co.,Ltd., previously Sichuan Airlines Company, started operations on July 14, 1988. With Sichuan Airlines Group Co. Ltd. as the major shareholder of 40% shares, Sichuan Airlines is jointly associated with China Southern Airlines, Shanghai Airlines, Shandong Airlines and Chengdu Gingko Catering Co., Ltd.
Over the 26 years of safe flight operation, Sichuan Airlines owns 96 Airbus aircraft and thus the largest Airbus fleet among Chinese airlines. Headquartered in Shuangliu International Airport in Chengdu, Sichuan, Sichuan Airlines has offices in Chongqing and Kunming, and base stations in Hangzhou, Sanya, Beijing, Xi'an, and Harbin, forming a flight route network covering more than 80 cities nationwide. Sichuan Airlines has grown its number of operating routes from the 7 to currently more than 200, opening up international flight to Hong Kong, Taiwan routes, Seoul, Maldives, Phuket, Saipan, Jakarta, Ho Chi Minh City, Vancouver, Melbourne and Sydney. The formation of Sichuan Airlines' transportation system of the regional comprehensive transportation hub is contributed by the well-operating network integrating main routes, secondary routes, international routes, regional routes and branch routes.