5 February 2015, Hong Kong - China Aircraft Leasing Group Holdings Limited ("CALC" or the "Group", stock code: 01848.HK), the fastest-growing independent aircraft operating lessor in Greater China, announced the first delivery of a new A320 aircraft to Air India Ltd. ("Air India"). The aircraft was delivered at the facilities of Airbus in Hamburg, Germany on 3 February 2015.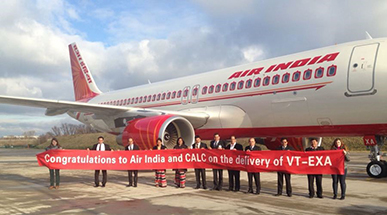 This is the first aircraft delivered under a 12-year operating lease agreement between CALC and Air India. CALC shall deliver an additional four new A320 aircraft to Air India by the end of 2015 as duly integrated with Air India's fleet optimization program on its current A320/A319 fleet. With maximum takeoff weight (MTOW) of 77 tons and Required Navigation Performance (RNP) Authorization Required (AR), the A320 aircraft delivered is equipped with Sharklets, 2.4-meter tall new wingtip devices, which enhance the fuel-efficiency and payload-range performance of the A320 Family resulting in up to 4% lower fuel burn over longer sectors. Light-weight Dragonfly Z85 cabin seats are installed in this new delivered A320 aircraft.
India is currently one of the top five fastest growing markets for the future around the globe. According to IATA, the air passenger capacity in India for the next two decades is expected to increase by an extra 266 million passengers, which demonstrates high increase in demand and transformation of the aviation market potential.
CALC's vision is to globalize its business in the leasing and remarketing of commercial aircraft. The Group's overseas professional team, with extensive international aviation market experience, oversees and supports CALC's global business development activities. With the current delivery to Air India, CALC marks its efforts for expansion outside China and solidifies its focus to the international aviation market.
Leveraging the extensive experiences of onshore and offshore aircraft leasing operations and diversified financing channels, CALC is dedicated to providing airline customers with comprehensive services of the highest quality. Led by its professional management team with the solid support of our strong shareholder base, CALC has made significant progress in expanding into international markets offering airline customers tailor-made, innovative and value-adding full life-cycle solutions for its fleet management needs.
Company Contact:
China Aircraft Leasing Group Holdings Limited
pr@calc.com.hk
About Air India Ltd.
Founded in 1932, Air India is a state-owned enterprise headquartered in New Delhi as well as the flag carrier of India. Air India has two major domestic hubs at Indira Gandhi International Airport and Chhatrapati Shivaji International Airport.
Air India is an international airline with a network of 33 destinations across the USA, Europe, Far-East and South-East Asia and the Persian Gulf. The airline's domestic network covers 50 destinations, including far-flung areas of the North-East, Ladakh, Andaman and Nicobar Islands. With its fleet size over 100 aircraft, Air India flies one of the youngest state-of-the-art fleet featuring a mix of wide-body narrow body aircraft. Air India is a member of Star Alliance, the world's largest airline accord.