20 December 2021, Hong Kong - China Aircraft Leasing Group Holdings Limited ("CALC" or the "Company", HKSE stock code: 01848; together with subsidiaries, the "Group") a full value chain aircraft solutions provider for the global aviation industry, is pleased to announce that CALC has received the "ESG - Social Innovation Contribution Award" in Chines Enterprises CSR ranking 2021 by YiCai, one of the most influential financial press in China.The award was granted to CALC as recognition in its unique business model, which, built on a footing of traditional aircraft leasing business, to have successfully explored valued solutions long the aircraft industry chain, as well as innovative financing models.
The Group has become one of the few companies in the world that maintains a considerable orderbook of new generation low-emission aircraft popular in the market; and has the capability of recycling qualified aviation components from retired end-of-life aircraft, creating a huge market for the emerging aviation finance industry. The Group has taken an array of measures over the years to enhance the positioning of Chinese lessors in the global aviation finance industry. As of March this year, its fleet assets ranked eighth in the world at US$17.1 billion in value.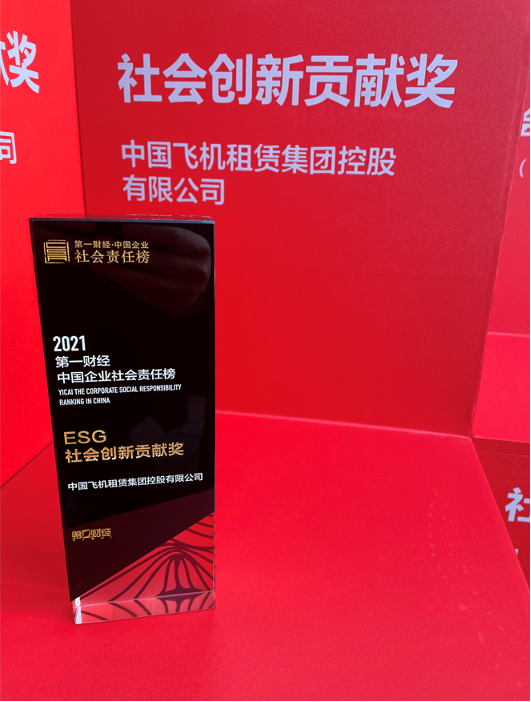 Mike Poon, Chief Executive Officer of CALC said: "I am expressing deep gratitude to the judging panel for their recognition of CALC. The Social Innovation Contribution Award is an affirmation and a driver of our continuous innovation leadership. This year marks the 15th anniversary of CALC. Our original objective of 'serving the country with industry expertise' has remained intact. We will continue to adhere to our 'full industry chain, globalization' development strategy, provide flexible and diversified solutions and high-quality assets for the global aviation industry, and strive to assist further development of China's aviation industry."
Mr. Poon added: "Modern enterprises are required to cover both ends of profit and responsibility of the spectrum well. While accomplishing innovative social and environmental influence, enterprises are also expected to deliver financial and commercial returns. CALC insists on investing in the most popular and fuel-efficient new generation aircraft models, continues to plough deep into the end-of-life aircraft disposal and aftermarket segments, taking reference to the objectives of 'peaking emission' and 'carbon neutrality' in shaping development of the industry, and will persist in the business for good principle."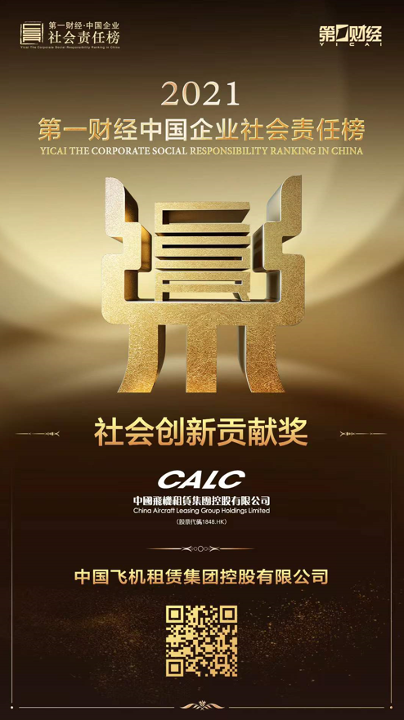 The 2021 YICAI · China Corporate Social Responsibility Raking adopted "Benevolent Business · Sustainable Leadership" as the theme of the year. The ranking assessments had lasted for nearly six months. A series of questionnaire surveys, company interviews, expert reviews and news monitoring activities yield a list of finalists. Established in 2003, YiCai is one of the most influential, professional and authoritative financial all-media groups in China. It has established an all-media, cross-platform, and international financial media ecosystem, which has real-time impact on perceptions of millions of professionals on economies and markets in China and the world.