Shanghai - 31 August 2015 - China Aircraft Leasing Group Holdings Limited ("CALC" or the "Group", stock code: 01848.HK), the largest operating aircraft lessor in China completed the delivery of a new A320 aircraft to Shenzhen Airlines ("SZA") on 27 August 2015, at the facilities of Airbus in Hamburg, Germany.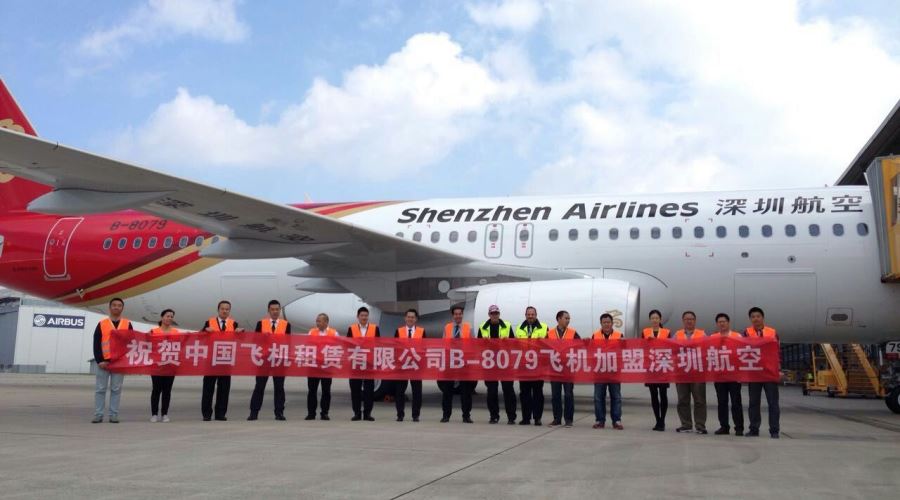 53rd - CALC delivers new A320 Aircraft to Shenzhen Airlines

CALC and SZA entered into a lease agreement in May 2015 for two aircraft. The remaining A320 aircraft shall be delivered to SZA by the end of 2015. The agreement and quick delivery schedule on one hand reinforced the cooperation between SZA and the Group; on the other hand, they prove that CALC, fully able to enhance long-term cooperation, is well trusted by airline customers. Meanwhile, this arrangement also demonstrated CALC's competence to timely address customers' needs with fast and flexible delivery schedule by leveraging on its close relationship with Airbus.
The aircraft is equipped with sharklets, a 2.4-meter tall wingtip device for fuel-efficiency enhancement. Rockwell Collins MultiScan weather radar system is implemented for accurate forecast of wind shear, and Panasonic inflight entertainment system is installed.
CALC's portfolio is currently made up of 53 current generation Airbus and Boeing aircraft with an average age below 2.8 years. CALC's strong clientele includes top-tier Chinese and Asian airlines, as well as newly established regional airlines. CALC is adopting an aggressive fleet expansion plan, expecting its fleet size to grow to 168 aircraft by 2022.
Dedicated to further consolidating the Group's position as a full value-chain aircraft solutions provider, CALC won via auction for an approximately 300,000 square metre plot of land in south of the Harbin Taiping International Airport in the Harbin Airport Economic Zone in July 2015, allowing work to formally commence. Once completed, the Group's aircraft disassembly centre located at Harbin will meet a need in the industry that is as yet unfulfilled. By answering the strong demand for the disposal of aged aircraft, we grow ever closer to realising our long-term vision of extending China's aviation value chain. The next decade will see the implementation of our three-step strategy to progressively develop the aircraft disassembly centre into a premier global disassembly base.
-----
For more information, please contact:
China Aircraft Leasing Group Holdings Limited
pr@calc.com.hk
About Shenzhen Airlines Co., Ltd.
Shenzhen Airlines Co., Ltd was founded in November 1992 and started operations in September 1993. With Air China and Shenzhen International Total Logistics (Shenzhen) Co, Ltd as its major shareholders, Shenzhen Airlines focuses on business of passenger, cargo and mail transportation. As of March 2015, Shenzhen Airlines owns a fleet of more than 150 passenger aircraft consisting Boeing 737s, and Airbus 320s and 319s, which are flying on close to 180 domestic and international routes.
According to their development blueprint, Shenzhen Airlines will expand its fleet to 180 passenger aircraft by the end of 2015. The airline also plans to introduce wide-body aircraft in due time. The company will forge itself into a well-known national carrier with its independent brand among competitors in Asia-Pacific region. In the future, its service network will extend across Asia and other continents.
About China Aircraft Leasing Group Holdings Limited
China Aircraft Leasing Group Holdings Limited ("CALC"; Stock Code: 01848.HK) is the largest aircraft operating lessor in China, in terms of new aircraft import under lease each year. With its professional team possessing extensive international aviation market experience and its globalized sources of financing, the Group has developed into a full value-chain aircraft solution provider. In addition to aircraft operating lease, financial lease and sales and leaseback, CALC provides customers with aircraft full-life solutions, covering fleet planning consultation, structured financing, fleet replacement package deal, third party aircraft resale as well as aircraft disassemble.
Listed on the main board of the Stock Exchange of Hong Kong on 11 July 2014, CALC is the first listed aircraft lessor in Asia. The Group is headquartered in Hong Kong, with offices in Beijing, Shanghai, Shenzhen and Tianjin, China; Labuan, Malaysia; Toulouse, France and Dublin, Ireland.